Nexgen Partner Highlight
SHLD Building Systems
Revolutionize the way you build with SHLD (Shield) Building Systems. The most innovative, sustainable, and cost-effective building systems and products in the market.
SHLD has over 100 complete building systems that save you time and money on the construction of any building. SHLD uses MEGCRETe sheathing that is the only MgO board in Canada to achieve CCMC certification for interior and exterior sheathing.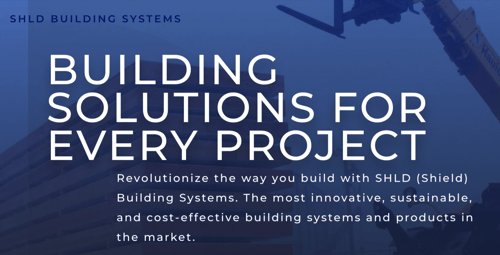 FAQs for Structural Insulated Panels
Can MgO panels be used as part of a flooring system?
Yes, MgO panels can be used as part of a flooring system. MgO panels are typically used for the lowest floor in a building project. Typically, TJI floor systems are used for the internal floor systems, and MgO panels for the basement, or ground floor.
Can MgO panels be used for interior walls?
Due to the extra cost of the MgO Panel, Interior walls are typically built in traditional fashions using MgO boards with wood or metal studs. But where MgO SIPs are used for interior walls, they add functionality to any building, especially for firewalls.
Can MgO panels be used for roofing?
MgO panels have a number of features that make them very suitable for roof application: -Water-resistant -Fire resistant -Naturally mold resistant -Support a high load strength -Can be applied in a number of different formats (flat, pitch, other).